I crashed. In this case, my helmet saved me.
I know in cycling helmet usage can be a controversial topic. I'm not here to tell you to wear one. All I can say is I crashed and in this specific situation, and in these specific circumstances, my helmet probably prevented serious injury, if not saved my life.
For those of you who might not be familiar with the issue, a lot of the controversy stems from the way the media reports crashes. The first question always asked and answered is whether a cyclist is wearing a helmet. It doesn't matter if it's a solo crash or if the cyclist hit by a Mack truck, everyone wants to know if there was a helmet being used, and if there wasn't one, it's always the cyclist's fault for being injured. Nevermind that there's a tire track over their torso and that the crash was completely unsurvivable. That the cyclist was not wearing a helmet implies the blame resides with the victim.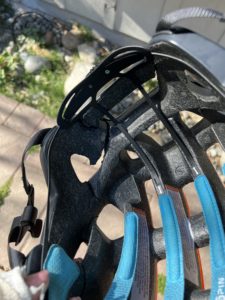 This was not the case with my crash. I have no memory of the crash nor of probably 15 to 20 minutes afterwards until I was being taken away in the ambulance. I had been riding behind my ride partner and everything happened so quickly that neither of us are sure what happened. I ended up on the pavement on my back, under my bike, with a cracked helmet, a concussion, and a gash under my cycling glove that would require 8 stitches. My x-rays and CT scan came back fine, but days later I'm still a little woozy and not feeling 100%.
A lot of you know I was an equestrian before I started cycling. Helmet usage comes naturally to me. I'm not telling you to be like me. You do what's comfortable for you. You do what works for you. The helmet is not a guarantee of being safe, especially on streets with irresponsible drivers in oversized SUVs with excessive blind spots. But sometimes, just sometimes, one might save your life.